This morning the following note appeared in my Inbox from the Google Affiliate Network:
"Google Affiliate Network, formerly DoubleClick Performics, is pleased to unveil a refreshed ConnectCommerce user interface. We have made improvements to overall navigation and usability and have updated colors and styles to reflect the new Google Affiliate Network brand. This update should leave the interface simpler to understand and navigate."
So, I checked it out and they were right, the new interface is a decided improvement over the previous iteration. Here's a screen capture from a search result page.
(Note: I was searching for highest 7 Day EPC's and found it interesting that 5 of the top 10 were in the Home & Garden category.)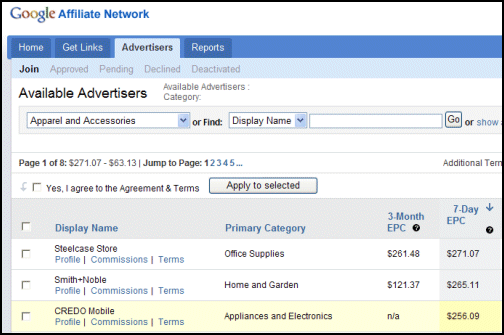 My hope is that the interface is now also easier for merchants to use and that by result the number of declined applications decreases, as Performics merchants have been absolutely NOTORIOUS for rejecting affiliate applications completely out of hand.