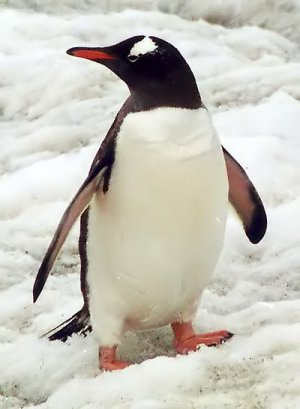 Google warned us in advance about its planned webspam algorithmn update (now known as "Penguin") and site owners who ignored those warnings are now paying the price.
Many of the comments posted to Danny Sullivan's post about the Penguin update verify search engine ranking downgrades and loss.
Here are just a few examples:
"I just had a website that ranked on the first page for numerous rankings…. completely tank. One of the only websites that didn't do comment spam in my SERPS. Didn't do link exchanges. Now it's gone."
"5 out of 11 of my sites have dropped into oblivion today."
"In one of my niches, of course, my site has disappeared."
"I have 2 sites that went missing ..they are MIA .. No where to be found in any key word !!"
While I feel for the truly innocent who get caught in the crossfire of Google's algorithm changes, they will mostly likely regain their rankings — as has happened in the past. By the way, if your site was affected by the "Penguin" webspam algorithm update on April 24th, 2012, and you don't think it should have been affected, you may submit a report to Google here.
But some not-so-innocent webmasters are stating that Google doesn't "play fair" and blame Google for the possibility that they may have to seek offline employment or go on government assistance.
Oh, too bad, so sad.
Forgive my lack of empathy, but give me a break.
I'm sick of the whining and moaning that ensues when Google dumps Viagra, make money online, and diabetes web spam over-optimized sites. Google stated that only 3.1% of English language sites would be affected by this update, yet there's way too much emphasis placed on spammers' reactions to such changes.
Instead of living in fear of Google algorithm changes, online business owners should seek out positive reports — and there are plenty of positive reports related to the Penguin update, including:
"I went to my analytics and did a quick search of traffic over the period from April 23-27 and saw my stats go up after Penguin. More traffic, coming from more places. My ranking in Google is stagnant at #4, but has gone up in Yahoo, Aol etc. Has anyone else seen positive signs from this Penguin update?"
"one of my sites is up 20-30%…"
"I'll wait and behold, and start to arrive at any conclusion in a month or two. First of all, none of my sites dropped outta' index. Second, being patient is natural for buddhists. Third, being an IT worker, I've never seen anything of that scale working well at the moment of release and later on. And I don't really think I'm ever going to, to be frank)"
"my total search traffic hasn't changed"
I too have seen a traffic increase in the past week on most of my primary sites, as is usually the case when an Google puts out an algorithm update.
Here's a Google Analytics screenshot from one site to which no posts have been made for well over a week and no traffic sent from email blasts. Daily traffic variations remain completely normal and new visitor ratio is virtually the same.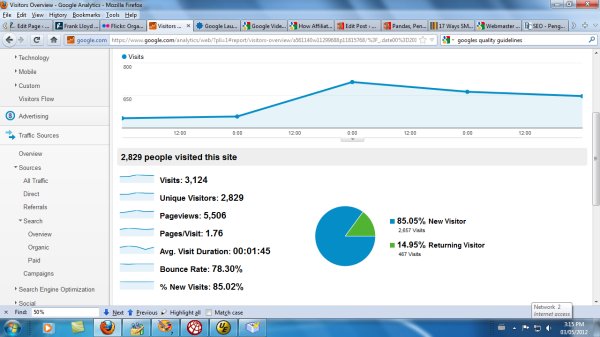 After almost 15 years online, I must conclude that's because I've consistently played by the rules. I do NOT do SEO other than naturally including important keywords in my post titles and text, i.e. I do NOT use silly formulas that may work today, won't work tomorrow and will get me bounced from the index.
It's Google's game, therefore Google makes the rules.
Webmasters who want to rely primarily on free traffic from Google should know and follow Google's webmaster guidelines.
Here are a few more recommendations:
Don't buy links
Don't allow links from low-quality sites and networks
Don't get sucked into buying SEO services that promise a #1 listing
Don't waste your money on crap tutorials that promise to teach you how to get #1 listings in Google
In other words, don't waste your time on SEO – become a real business that provides real value to real people.
Has Penguin affected your site? Please leave a comment below!
Cheers,

P.S. Thanks to Stan Shebs and Wikipedia for the beautiful penguin pic. 🙂