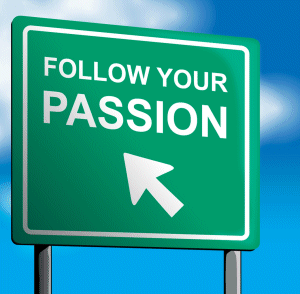 I've always believed that following your passion is the best way to succeed in business.
There's no doubt in my mind that being passionate about what I do is the primary reason my online business has been so successful for almost 15 years. That's why I always recommend my students follow their passion as opposed to chasing the money.
Chasing the money works some of the time, but it usually fizzles out quickly and you are back where you started — looking for another venture. Moreover, there's very little personal reward in simply chasing dollars. It's boring and tedious following a formula or spending your time on a topic that does not interest you in the least.
Most, if not all, of my most respected Internet Marketing colleagues (other experts in the field) have also follow their passion.
One glowing example is Chris Carpenter, whom you may remember best as author of "Google Cash", a best-selling guide on how to make money using pay-per-click marketing.
Chris and I agree that working to live is considerably more fun and rewarding than living to work. Chris, a die-hard surfer, lives on a beach in Mexico and when not there, he travels the world in search of great surf. He also cares a lot about the people with whom he does business – he wants them to succeed.
It's in that vein that Chris has created a new course called the Profit from Your Passion BluePrint.
One of the first things you'll notice on the homepage of the membership site is the comment, "If you have any questions, comments or concerns – please contact me directly at __________"… with Chris' email address filling in the blank.
I can't think of any coach in the IM community who lets members contact them directly via email (OK, except for me, maybe. LOL)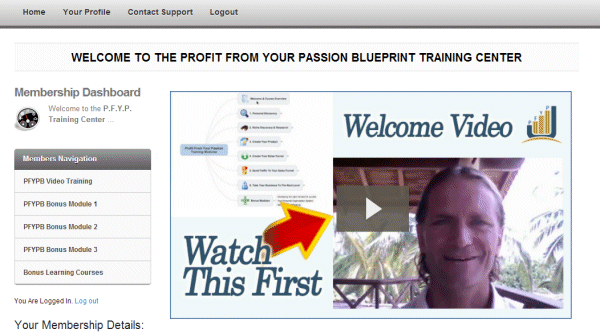 The course consists of the following:
Video and Tutorial Modules
Module 1 – Discover Your Passions, Skills, and Life Purpose and Envision Your Ideal Lifestyle
Module 2 – Niche Discovery and Research
Module 3 – Create Your Product
Module 4 – Create Your Sales Funnel
Module 5 – Send Traffic To Your Sales Funnel
Module 6 – Taking Your Business To The Next Level – Advanced Strategies
Bonus Modules
Bonus Module 1 – Developing the Right Mindset For Success
Bonus Module 2 – Your Personal Organizational / Life Management System
Bonus Module 3 – How To Work Efficiently
Bonus Learning Courses
[Video Training] — Publishing Information Products
[Video Training] — Learn How To Use WordPress
[Video Training] — Improve Your Copywriting Skills
[Written Content] — Creating an Information Product
The course is a well-structured step-by-step-by-step guide. Modules also include PDF downloads that you can print out.
The only downside (for some) may be the $147 price tag. Too, you'll have to wait for Modules 3 and beyond to be released. However, if you follow the course correctly, you'll be learning and building your business during that time.
The Profit from Your Passion BluePrint officially opens October 2nd, 2012 at noon Eastern time.
Right now, there is a video on the page in which Chris explains the four real reasons why most people fail to make any real money on the Internet. Watch it… I have no doubt that you'll be able to relate, if you've been working to make money online for any length of time!
My Bonus for You
If you purchase Profit from Your Passion BluePrint through my link, I'll give you 30 days free access to my Affiliate Blogger PRO academy.
To be sure you are ordering through my link, check to see that [affiliate = webjv] shows up at the bottom of Clickbank's secure payment form when you are ordering.
After you order, send me your Clickbank receipt number for the Profit from Your Passion Blueprint along with your name and email address through our Contact Page, and I'll set you up.
Enjoy the course!
Comments, questions or suggestions? Please leave a comment below!
Cheers,