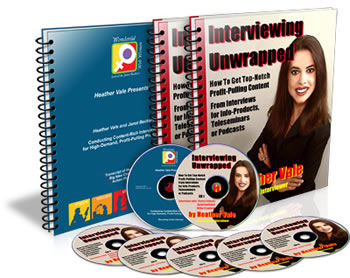 If you've read my "How to Get Expert Content for Free" post, you know that there is an art not only to getting the interview with an expert, but more importantly in how you conduct that interview.
One of the best interviewers with whom I've ever spoken is Heather Vale, and she is now offering a course to improve your interviewing skills called "Interviewing Unwrapped".
Interviewing Unwrapped Course Contents
Interviewing Unwrapped consists of three spiral-bound manuals, and seven audio CDs, plus an online membership area to get additional information — designed for you to use in a hands-on way. You can mark it up, highlight it, take personal notes, and keep it on your desk for quick reference while doing interviews.
The first 6 CDs feature 10 interviews with other top online interviewers, some of whom do things a little differently than Heather does; giving you a wider perspective with which to work! Note: The transcripts of those interviews are found in Book 2 (see below).
The 7th CD features an interview that another top online interviewer, Janet Beckers, conducted with Heather, on the very topic of interviewing for content-rich interviews, and the transcript is found in Book 3. Heather takes the microphone at this time, and she gives insights into her background, including how she came to be known as 'the unwrapper', and how she was able to secure an interview with a previously un-esponsive Mike Filsaime.
The package also contains a copy of "Wonderful Web Women" in a spiral bound Interview transcript, in which I was a participant.
Book 1 is a 184-page manual that includes 46 chapters of practical interviewing advice and techniques to guide you from absolute beginner to skilled interviewer.
The manual is divided into the following sections:
1. Introduction
2. The Truth About Popular Interviewing Myths
3. The Anatomy of a Great Interviewer
4. The Anatomy of a Great Interview
5. The Anatomy of a Great Question
6. Presentation and Delivery
7. Content
8. Getting The Guests
Book 2 is a 182-page volume containing transcripts of the first six CDs of interviews with other well known online interviewers. The format is the same as the first book, with one or more pages for notes at the end of each interview transcript:
1. Interviews with Today's Top Online Interviewers
2. Conclusion
3. Bonuses
The tools in the back of Book 2 include a sample question template to keep on hand whenever you're conducting an interview, a testimonial solicitation letter that pulls close to 100% results, and much more.
The Action Steps listed in Chapter 10 will get you headed out with a PLAN, and the bonus Question Template from Chapter 11 is a good cheat sheet to keep your interviews on track.
Book 3 is a supplemental resource that includes an Action Plan and Cheat Sheet created by Janet Becker… see CD-7 and Book 3.
Summary Conclusion
Interviews are a fabulous way for you to to quickly generate new and FREE content for either your blogs or new products.
If you want to easily produce great interviews with your chosen experts, you 'must' have or develop interviewing skills.
"Interviewing Unwrapped" is the only online product on the market that will teach you those skills, by a truly great interviewer. It includes a 60-Day Money Back Guarantee if you decide that you don't want to become a great interviewer.
Avoid the pitfalls of rejection and poorly executed interviews, check out "Interviewing Unwrapped" now.