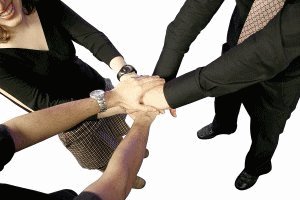 Thinking about starting your own affiliate program to promote your products online?
Good for you!
Having your own affiliate program is the best possible way to ramp up site traffic and increase product sales without breaking your marketing budget, as affiliates are paid on a pay-for-performance basis.
But before you rush into affiliate marketing as a merchant, the first things you'll have to consider is how you want to manage your affiliate program… i.e. use software, a service.. a network?
Listed below are some of the affiliate program management applications and services — and in an effort to save you time, I've mentioned only a few of the solutions available — those used by most of my affiliated merchants.
There are basically 4 different types of affiliate management solutions. They are:
Custom Software – You can have proprietary software written and hosted on your own server. However, unless your company has very specific needs not served by other solutions, this can be a very costly endeavor. I highly recommend that you look at a number of third party solutions before resorting to this option.
Affiliate Network – Affiliate networks are the most expensive, yet feature-rich affiliate management solutions. Some networks charge either a flat monthly fee or a percentage of sales to handle all your affiliate sales transactions and in handle commission payment processing. The biggest benefit to joining most affiliate networks is that thousands of affiliates will be introduced to your offer as soon as your offer is made available on the network. Some networks are trade-specific, such as Credit Soup, which promotes only offers from credit card companies and financial institutions.
Remotely-Hosted and Third-Party Software – You can buy an existing script for placement on your own server, or lease a solution that resides on the leasing company's server.
Shopping Cart Integrated – Some shopping carts, like 1ShoppingCart have affiliate program management solutions built right into them.
Understanding the different types of solutions, here are a few more things you'll want to factor into your decision.
Do You Sell a Digital Product?
If you sell a digital product, like an ebook or software, you should definitely consider Clickbank, which acts as a third party payment processor, (say THAT 3 times fast) and has a built-in affiliate program/network. It is the company I've used since 2003 to process sales of my Super Affiliate Handbook. Jim Edwards and I also use their services for Affiliate Business Blueprint sales.
Checks arrive like clockwork every two weeks.
It's super cheap to set up with Clickbank too. There's a one-time $50 setup charge, and then a $1.00 fee and 7.5% applied to every order processed. Order fees are split between you and the affiliate who referred the sale.
Best of all, Clickbank has thousands of affiliates in their network who are always looking for digital products to promote…Nothing but nothing sells like information on the 'net, and Clickbank affiliates know that well!
Sure, Clickbank's affiliate program has its limitations, not least of which is the inability to contact the affiliates who promote your product. (There are some easy workarounds to that problem, however.)
Nevertheless, it is a 'best bet' for getting an affiliate program started quickly, easily and inexpensively.
Do You Sell Hard Goods or a Service?
Merchants who sell hard goods and services have many affiliate program management solution options… and I do mean many.
Do you want to have your program introduced to tens of thousands of affiliates… today? Then consider partnering with Commission Junction, the largest affiliate network.
Although CJ is a costly solution – it will cost thousands to gain access, and an annual maintenance fee of 250 (or more) dollars – having so many affiliates available to promote your product from the outset, may offset the initial and ongoing costs of having CJ administer your program.
Clickbank is another – much cheaper – option, and they now permit the sale of hard goods.If you like the idea of having thousands of affiliates on your 'doorstep' by joining an affiliate network, but think CJ's prices are a too steep, you might want to consider:
Alternatives to the big (and smaller) affiliate networks can be found through…
Remotely-Hosted and Local Third-Party Solutions
If you'd want to save money and don't mind finding your own affiliates then a Third-Party affiliate management program solution may be right for you.
My Affiliate Program is a very popular robust and completely customizable third-party hosted Affiliate Tracking and Management solution offered by Kolimbo (Kowabunga Technologies).They brand themselves as the 'The Original Affiliate Tracking & Management Solution Provider, Since 1997' and claim to 'power over 500,000 affiliates, and 2000 private networks, and continues to hold its place as the #1 private affiliate software and management solution on the market today.'Indeed, many of the most successful companies with which I do business use the 'My Affiliate Program' to power their affiliate programs.
Ultimate Affiliate by Groundbreak is a script that allows you to run a fully featured affiliate program from your own website with no monthly fees, while promising easy setup and free updates to their software. Many of the merchants whose products I promote use Ultimate Affiliate. As an affiliate, I appreciate Ultimate Affiliate's simple, easy-to-use statistics interface.
Last, but certainly not least are affiliate management program solutions which are built right into your shopping cart.
Once you've decided to start your own affiliate program, I recommend that you also pick up a copy of the Super Affiliate Handbook to learn how affiliates think and like to work.
Although it is the industry's standard training manual for new affiliates, it is also very popular with affiliate managers and owner/merchants who want to make the most out of their affiliate programs.