Which day is the best day to send out marketing messages to your newsletter subscribers? According to eROI's just released Q2 '06 report on email statistics, that depends on whether it's a B2C or a B2B message.
Turns out that …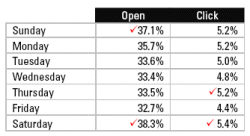 Monday and Tuesday are the preferred day for receiving B2B email, while Thursday's appeal to consumers.
eROI reported "that Saturday and Sunday had the highest open rates, while Thursday and Saturday lead the way in click rates. Monday had the highest week-day open rate with 35.7%. Across the board, open and click rates were more even this quarter than in previous ones, with open rates between 32.7% and 38.3% and with click rates between 4.4% and 5.4%."
So, if you want to improve your click and open rates, you might want to try sending your newsletter on a different day.
To check your own click rates, be sure to check the box marked "Click Tracking – Enable tracking of click-throughs from links in your message" before sending a message with Aweber.