Thinking about doing some anonymous blogging as part of your online business efforts?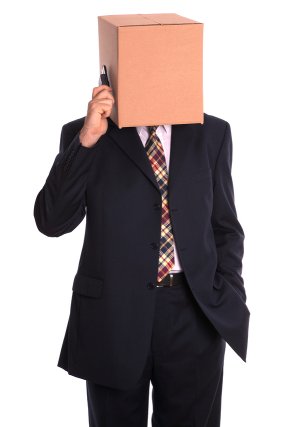 If so, then I highly recommend reading the following article about one anonymous blogger. While YOUR intentions will no doubt be loftier than his, there are still some distinct disadvantages to anonymous blogging that I outline below.
Anonymous Blogger Keeps Me Amused
I've been keeping myself highly amused over the past 6 weeks by reading a newsletter series of Internet marketing ebook reviews published by an anonymous author.
On the homepage, this self-proclaimed (yet anonymous) 'guru' offers ebooks by gurus for free. I was shocked to see the Super Affiliate Handbook in the list of books offered, so I kept reading to to investigate this supposed violation of my copyright.
Shortly thereafter, the anonymous 'guru' author explains that he reviews these popular Internet and affiliate marketing manuals and will send you his condensed and 'truthful' version when you sign up for his newsletter.
I visited the FAQ page, the 'guru' tries to establish credibility by claiming to have 10+ years of experience in the IM industry and that if you've been online for more than 5 minutes – you've heard of him. That tack doesn't work with me, but I signed up for the newsletter nonetheless, curious to see his take on the manuals listed – most of which I've read and reviewed (or chosen not to review in some cases).
Upon subscribing, the reviews started pouring into my Inbox. After reading only one review, I started looking forward to the daily chuckle.
That I found the content so laughable was surely not what the anonymous guru intended, but I just couldn't help myself.
In each 'review', the 'guru' tries to make it appear that he's actually read the book by including page numbers, and a short description of content and then proceeds to lambaste the author.
Of course, having 'somewhat' intimate knowledge of the Super Affiliate Handbook's contents, verification wasn't difficult. All the references were completely bogus – not only for my book but for each of the others as well. Oh, he may have peripherally scanned a 2003 version, but actual reading he apparently does NOT do.
Every manual gets completely trashed – yet, in each case, he refers to the original version – despite the fact that most of the books mentioned have been completely revised by their authors. Of course, he wouldn't want to share that information with his subscribers, because that would expose him as a fake and a liar which would make it difficult for him to sell the products that he promotes in each email – hosting and autoresponder services.
At the end of each email, he also mentions that you need something to sell, but that's entirely up to you. I agree with that, but real 'gurus' (or those who actually know what they are talking about) also offer their subscribers some help in that direction.
So, why did I laugh?
Well, I did a little detective work and discovered that the Alexa 7-day average ranking for his 2-year-old site was a pitiful 1,814,598. No REAL 'guru' would have numbers THAT low. Honest to goodly, I know newbies who have significantly higher Alexa rankings on freshly installed WordPress blogs.
Furthermore, there are only 11 links pointing to his site – 2 of which were broken, one from an FFA, and others that came from short, inane comments on a black hat forum. I won't make that 12 by adding one here. 🙂
So, it's obvious that this so-called guru is not what he says he is — but how does that affect your desire to share good information whilst remaining anonymous?
Anonymous Blogging: Primary Disadvantages
Choosing anonymity makes a publisher's credibility suspect from the outset. Astute readers will either immediately discount the writer's credibility and move on or dig deeper to assess the publisher's credibility. Note: Any reader who blindly accepts what someone online writes without confirming that writer's credibility deserves to be conned.
You can't really hide on the 'net, no matter how hard you might try. As shown in the article above, it's relatively easy to determine and/or discount the veracity of claims made by anonymous bloggers or publishers.
Ultimately, anonymous blogging or publishing distracts your audience from the primary objective of a business website or newsletter – getting them to buy something.
If you want (or need) to hide your real name for safety or other reasons, I'd recommend using a pseudonym. Do what so many in the Internet Marketing community do – use your first and middle names. That way, if you're ever called upon to speak at a conference, you can present yourself as the person everyone knows as "Patricia Rose" or "Jack Stewart". Besides, your anonymity as "Mr. X" won't last long once the conference pictures start to circulate online.
Did you find this post informative and useful? If so, please share it with others! If you have a comment, question, or suggestion, please leave a comment below!
Cheers,