Do you want to make money from your writing? Did you know that writers are making tens of thousands of dollars using their writing skills online… and those figures are verifiable on certain sites? Hmmm… THAT got your interest, didn't it?
Every business needs writers, and finding writing jobs online became easier when job boards created exclusively for writers were created, BUT…
I checked into those writing job boards on a regular basis and the main reason I haven't shared them with you before is that most charge a monthly membership. Well, that problem just got solved with the opening of Alice Seba and Ron Douglas' new service, Writer Help Wanted.
They offer their service for a one-time fee of $47…
… AND Writer Help Wanted is SO MUCH more than just a job board for writers.
I am a member and here's a taste of what they've got going on inside:
Training modules and video lessons that teach you how to secure writing jobs.
Training to help you create passive streams of income from your writing.
Case studies from successful writers in a variety of different ventures. The value of learning from the experiences of others can't be underestimated.
Daily job listings and guidance for landing the best gigs for those looking for freelance opportunities or full-time work. There are so many different different opportunities and topics from which to choose, too! For example, here are is a sampling of 10 jobs that I came across.

College education
Cosmetics
An 'About Me' page
Sports writing (full-time)
Wine clubs
Crime reporting (full-time)
Romance
Senior Lifestyle writer
Destination Weddings
Personal Growth

Checklists and other handy tools to help you get things done faster and easier. Many of these are from Alice and Ron's personal library of tools that they use to run and grow their businesses.
And that's just a small part of what's inside.
Here's a sneak peak tour of their membership area.
About Ron and Alice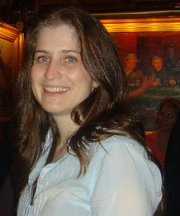 I first met Alice Seba over a decade ago at a conference in Washington, D.C. (I took the picture to the right of her and she hasn't changed a bit! … and Ron is even cuter! 🙂 ) and have been working with her ever since. She's a work-at-home mom and is one of the foremost content marketing experts online with over 20,000 satisfied customers who buy her content over and over again. Ron Douglas is a New York Times Best Selling Author who has sold over one million books and ebooks and been featured on Fox News, Good Morning America, and in People Magazine. Together, they've helped students from all over the world learn how to earn a living from their writing.

DO take advantage of the $1 Elite Writer's Lab upgrade. You get plenty more resources and personalized help and coaching. Make this choice to start earning a living from your writing.
Comments, questions or suggestions? Please leave a comment below!
Cheers,