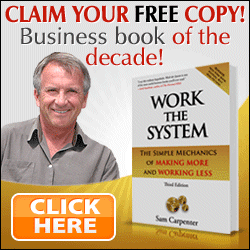 The Work The System Academy offers a blueprint for reducing work hours by 50-80% and increasing income and productivity significantly in the process.
I read the book and have been promoting the WTSA program since it was released…
They run an evergreen launch (as opposed to the types of launches I dislike) with a discounted price of $1495 and an actual price of $1995 and a 4 part installment payment option.
Work the System offers 40% commissions on product sales.
Thought you might want to sign up as an affiliate.
You can see how the launch funnel works by signing up for it at Workthesystemacademy.com
Anyway, thought you'd want to know about it!
Comments, questions or suggestions? Please leave a comment below!
Cheers,