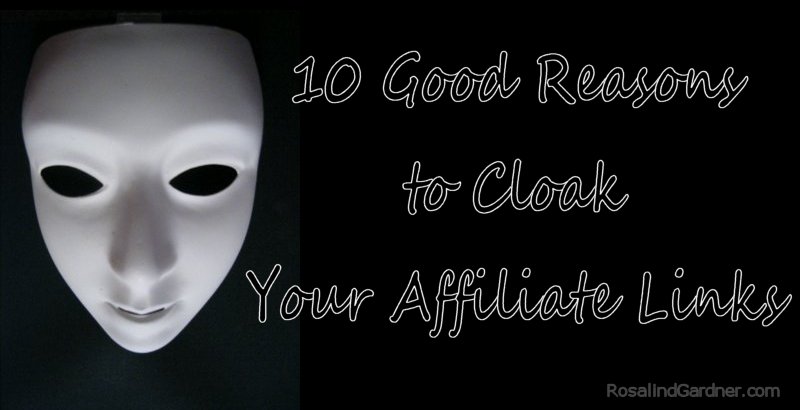 Yes, you should cloak your affiliate links!
Affiliate links are completely obvious. For example, here is my affiliate link for StudioPress:
https://shareasale.com/r.cfm?b=346200&u=84626&m=28169&urllink=&afftrack=
When I cloak that link on this site, it ends up looking like:
https://rosalindgardner.com/blog/studiopress
Both links go to the same URL and both will generate an affiliate commission when a sale is made, but the latter link is SO much better in many ways – 10 ways to be precise. Here are the reasons you too should cloak your affiliate links.
To prevent your affiliate ID from showing in the link. Many Internet users won't trust you once they discover that you are an affiliate marketer through seeing an obvious affiliate link in their browser's status bar, despite your brilliantly-written, informative and useful product reviews. You lose credibility with them simply because you are writing reviews for profit.
To prevent affiliate ID stripping / commission by-passing. Rather than risk having you earn a commission by buying a product through your affiliate link; some folks will copy your affiliate link, strip out the affiliate ID and then buy the product you recommended. As products don't cost more when purchased through an affiliate link, there is no good reason for this behavior — other than the fact that they are not nice people.
To prevent affiliate link swapping. Some affiliate marketers can be nasty too. A nasty affiliate will strip your ID and replace it with their own affiliate ID. This scenario seems to be more common when promoting Clickbank products, where affiliates (most often) don't require an individual vendor's approval to promote their products. Therefore, anyone with a Clickbank affiliate account can swap out your affiliate ID with their ID and then use their affiliate link to buy the product. You lose your 50 – 70% commission and the thieving affiliate saves that much on their purchase. These affiliates obviously know nothing about karma, or Clickbank's policies.
To avoid search ranking penalties. One way Google ranks sites is on the basis of popularity, i.e. how many sites link to that particular site. Google does not, however, consider affiliate links a good measure of popularity, as those links point to sites for the purpose of making money. Google, therefore, wants all affiliate links to be coded with the rel=nofollow attribute, which is a direct pain in the butt if you must code each link manually.
To hide your affiliate links from social media sites. If you post affiliate links on Facebook or Twitter, your post either won't get seen in the news feed (Facebook), or worse, you might get your account suspended (Twitter). Under Abuse and Spam in the Twitter Rules you will find the following statement – "If you post misleading links (e.g. affiliate links, links to malware/clickjacking pages, etc.)." I wouldn't trust the nice folks at Twitter enough to ascertain whether an affiliate link is truly misleading before they terminate your account, so best to avoid that problem before it begins.
To improve your search engine rankings. Cloaked affiliate links that point back to your own domain from social media sites, forums and other blogs might help improve your search engine rankings with Google.
To thwart ad blockers. If a visitor uses a browser extension such as AdBlock Plus, they will not see the banners on your site that are coded with straight affiliate links. That in itself is a great reason to download banners and host them on your own site.
To make affiliate link management easier. Product links expire and affiliate programs close from time to time, requiring that you change or remove those affiliate links. I've discussed StudioPress so often on this blog that I can only imagine how frustrating it would be to find and change all those links… IF I didn't use a cloaking script.
To improve link tracking. Many affiliate link cloaking options (listed below) offer click and conversion tracking, a/b split testing, external pixel tracking and ad tracking reports.
Increase conversions and revenue. Last but certainly not least, when you avoid all of the bad possibilities listed above, you're bound to make more money from your affiliate endeavors. J
How to Cloak Affiliate Links
I'll begin this section with a warning – do NOT use bit.ly, tinyurl, Goo.gl or other link shorteners to cloak your affiliate links. First of all, Bit.ly links aren't private, meaning anyone can check to see how well your money links are performing. Secondly, they often won't show up on social media feeds (or they stop working entirely), so there's no point in wasting your time with them.
There are a number of different affiliate link cloaking options available; including self-hosted scripts and plugins for WordPress. I don't list online cloaking services, because I believe you should have complete control over your affiliate links and you can never tell when an online service might go out of business.
On most of my sites, I use a php redirection script to cloak my affiliate links. I also use Pretty Link PRO on my personal blog.
Although there are dozens of options available, I've listed only 4 here. These are the most popular link cloakers used by professional affiliates. Check out the list below to see which solution suits you best.
Affiliate Link Cloakers
Pretty Link Pro
Shorten links using your own domain name. Pretty Link tracks each hit on your URL and provides a full, detailed report of where the hit came from, the browser, o/s and host. You can also track clicks from emails. The professional version is a significant upgrade to Pretty Link Lite that adds many tools and redirection types that will allow you to create pretty links automatically, cloak links, auto-tweet links, replace keywords though-out your blog and much more.
ThirstyAffiliates
Thirsty Affiliates (free version) lets you administer your affiliate links, assists you with inserting them into your posts, pages and comments and gives you a central location in WordPress to manage all of your affiliate links. They offer a number of add-ons for click tracing, geolocation, importing affiliate links from Amazon and more.
Easy Redirect Script
Create redirect URLs using your own website domain. One standout feature is the Stealth Page, which forces the redirect URL to display in the browser's address bar. The program comes complete with stats tracking, SEO options, categories & descriptions, along with tool tips and excellent documentation.
I hope this list of reasons to cloak your affiliate links has convinced you that doing so is absolutely necessary if you want to avoid commission theft and make more money.
Did you find this post informative and useful? If so, please share it with others! If you have a comment, question or suggestion, please post it below!
Cheers,