The (Canadian Thanksgiving) turkey has barely been digested and the Halloween candy hasn't yet been shelled out, but it's beginning to look a LOT like Christmas online.
According to Advertising.com's second annual Holiday Shopping Study conducted to analyze consumer shopping behavior and expectations for the 2007 holiday season, results indicated that 2007 will be strong for online shopping, with 84 percent of respondents planning to spend as much as or more online than they did during the 2006 holiday season.
Also according to the survey, consumers plan to start their holiday shopping earlier this year than in 2006.
Fifty percent of survey respondents indicated that they plan to start shopping for holiday gifts in October or earlier. In 2006, 44% said they would start shopping after Thanksgiving, and 15% said they would wait until the last two weeks of December. (Perhaps the latter 15% wised up when they missed retailers' cut-off dates and their gifts didn't arrive in time for Christmas last year?)
Although they may start comparing products and searching for gift ideas earlier, the study indicated that most consumers will wait until November or December to make their purchases.
Advertising.com's research supports this, with data showing that conversion rates increase from about 10% in the third week in November to almost 20% one month later. At 20%, December 15 was the highest conversion day during the 2006 season.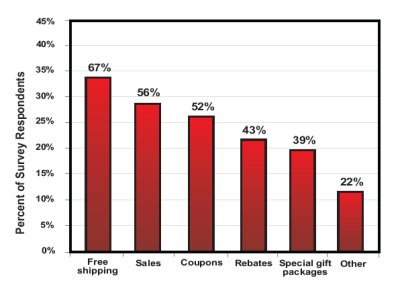 When asked "What are your top three reasons for going online during the holiday season?", 54% of participants responded that deals and discounts were their primary reason, closely followed by 'save time/convenience' and 'compare product prices' at 51% and 50% respectively.
When asked what types of online holiday offers/promotions survey participants found most enticing, free shipping led the pack followed by sales, coupons, rebates and special gift packages.
With these survey results in mind, please take a look at my article, '10 Ways to Get Your Affiliate Site Ready for Christmas'.