On December 28th, comScore Networks released its estimates of consumer online non-travel (retail) spending at U.S. sites for the 2006 holiday season through Tuesday, December 26.
According to the press release, "total online retail spending reached $23.11 billion, marking a 26-percent increase versus the corresponding days in 2005. Sales during the week prior to Christmas (December 18 – December 22, 2006) rose 38 percent versus the corresponding week in 2005. Importantly, year-to-date non-travel e-commerce spending surpassed the $100 billion mark for the first time ever on Saturday, December 23, 2006".
If you are looking for a new niche market to work on in 2007, here are the fastest growing online product categories…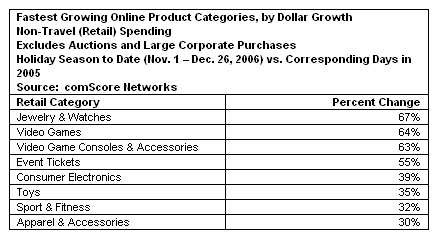 If you think those niches are completely saturated with competition and therefore not worth your time or effort, think again.
You can survey your potential competition and then do it better. Go narrower and deeper within the category, sell higher quality goods, or offer better prices. Most importantly, brand yourself in a unique way that makes YOU and your affiliate site memorable in your visitors' minds.
Don't run scared from big markets – take advantage of them!