In a December 3rd press release, Comscore resported that Cyber Monday saw $846 million in online spending. Although spending over the holiday season to date ($12.03 billion) is down by 2% from last year, Cyber Monday's online sales were up by a whopping 15% over 2007 sales. Take a look at the following screenshot where you'll note that the preceding weekend also saw a jump in online sales by 19% over last year.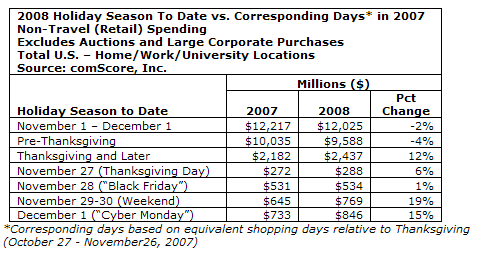 With online sales up marginally on Black Friday and significantly on Cyber Monday, analysts are still predicting a decline in the months to come. Considering that the job loss stats out today report 533,000 more jobs in the U.S. were lost in November – the biggest decline since 1974 – the outlook could look pretty grim.
HOWEVER, that depends entirely on what you are selling. For example, this is probably not the best time to start a new jewelry site. Want to know what you should sell? Read 8 Recession-Proof Product & Service Ideas for Affiliates… and stay tuned for more great recession-proof niches and product ideas. Let's prove the analysts wrong!