On June 1st, 2007, eBay US made a payment structure change to their affiliate program that could increase your affiliate earnings.
See the image below for the compensation model, which is only available through Commission Junction
Note: An "ACRU" is a new eBay active user, who registers for eBay for the first time, then confirms their registration and lastly places a bid on eBay or uses BIN (Buy it Now) to buy an item within 30 days of registration.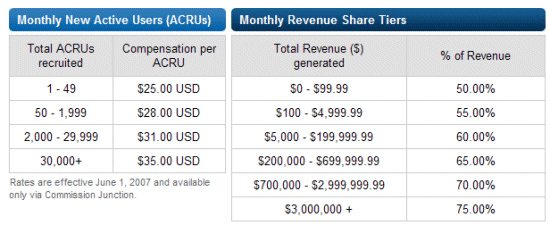 That's pretty straight forward. The more users that you recruit and the more revenue you generate, the more you make.
On the flip side, here's a policy change that could see your earnings drop.
If you are driving traffic to eBay via paid search, you will not be compensated for traffic purchased from Google, Yahoo, MSN or the associated content networks (Google AdSense, Yahoo! Publisher Network, and MSN ContentAds) if your ad links directly to any of the eBay.com, eBay Express, or eBay Store domains. This change only applies to the U.S. program and the search engines mentioned above.
So, if you're direct linking to eBay with paid search, change those ads ASAP.