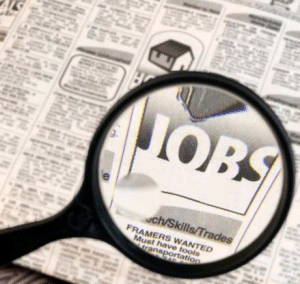 What? Me say that dirty word – J.O.B. – not once, but THREE times?
I know, I know, but what with the Big 3 bailout on its last legs today (unless the White House steps in), my guess is that more than just a few NPT readers will be among the 1.6 million workers affected by the fallout – not to mention those of you who are already looking for work or have concerns that your job may be in jeopardy.
Seen in that light, 'job' isn't such a bad word and I thought you should know that there are PLENTY of jobs in the affiliate marketing industry. Here's a screenshot taken today of Monster.com returns for a search for 'affiliate marketing'.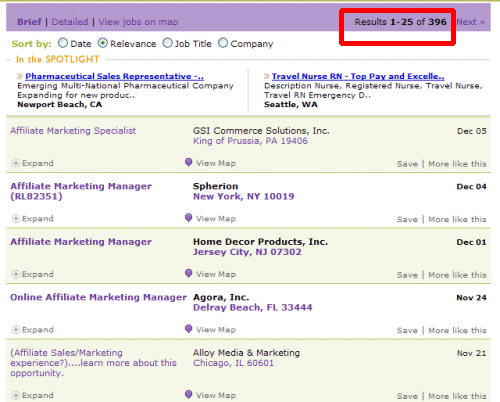 Note that there were 396 job listings just in the States, posted by companies such as Amazon, Commission Junction, Google and Netflix. A search of the U.K. site resulted in 76 returns and the Canadian site returned another 16 job listings, including postings by our friends at EcomAccess / ShareResults and MaxBounty had posted a full-time entry-level affiliate manager's position.
If you – already having some knowledge of affiliate marketing – think that you're not qualified to be an affiliate manager, I'd like you to read the following list from MaxBounty's listing:
We are looking for people with the ability to:

Learn the INs and OUTs of Internet advertising
Accomplish tasks with initiative and little supervision
Develop strong friendly relationships with our clients
Utilize the Internet for research and prospect development (email, browsing, instant messaging)
Converse well in the English language (oral or written)
If that didn't convince you of your potential to qualify for an affiliate manager's position, here's another snippet from their ad:
We can't emphasize strongly enough that finding the right type of person is far more important than finding someone with experience.
MaxBounty wasn't the only company willing to provide affiliate manager training, however most DO expect some experience and/or training.
So, can you translate your experience as an affiliate marketer into a job as an affiliate manager? Well, let's just say that you stand a much better chance of doing so than someone who doesn't know the meaning of affiliate marketing. And there are ways that you can improve your chances of landing a job in the affiliate marketing industry.
First, you have to start looking. Search the industry job listings on Monster and other job sites. Is there anything that interests you and are qualified for? Apply.

Don't automatically reject those listings for which you don't qualify. Take note of the skills and experience that they are seeking. Now, think about your own experience. Perhaps the 2 – 5 years that you spent in offline retail sales or managing a small office IS helpful.

Now, dust off your resume. Emphasize your online experience by adding "Expertise in website development, online marketing strategy, email marketing, affiliate marketing strategies and search engine optimization" for starters. Hint: Use the wording in job postings to guide your resume preparation. If you don't have a resume or need help with preparing a new resume, consider letting a professional resume writer customize your resume for that job.
Affiliate marketing is one of the few industry's that is forecast to grow in the coming years… so, NOW is the time to start looking for that job or set yourself to be in a position to land that job when the position opens… because guaranteed, there's going to be a ton of competition for all available spaces.
And one more thing to consider – many affiliate managers do enjoy the luxury of working from home!!
Comments, questions or suggestions? Please leave a comment below!
Cheers,