Personal branding is about becoming the marketer whom people know, like, and trust enough to buy from again and again.
Here's a story about how I learned about personal branding.
I hadn't smoked for 2.5 years when a friend offered me a cigarette at my first-ever speaking event, and I was REALLY nervous.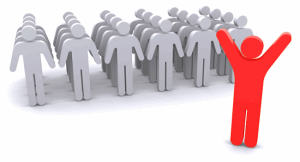 Stupidly, I accepted, and a few months later I was smoking like a chimney again.
Unfortunately, all those nasty toxins were keeping me from doing the things I enjoy… like walking, biking, and hiking. Even golfing in the heat felt like a chore.
So, to correct the faux pas, I got busy golfing, landscaping, swimming … anything but smoking.
Being smoke-free has been fabulous…
…but honestly, the best part has been the people I've met or gotten to know better in that time.
There's the lady at the deli in town, where we've picked up bagged lunches to take with us to the golf course. The place is always packed with people, not just because she makes these incredible sandwiches, but because she is who she is… fun and friendly, chatting the day away with her customers, while she makes her delicious sandwiches.
Then there are the two fellows who own the nursery up the street. The place itself is in a beautiful location, and you can wander around the nursery for the longest time just enjoying all the varieties of perennials, annuals and shrubs; as well as sculptures that are strategically placed around the property. They have 3 friendly dogs that will accompany you when you whistle for them to come. Best of all are the owners, who obviously LOVE what they are doing, and are happy to answer any and all questions.
I could just as easily get sandwiches at Safeway and landscape materials at the big nursery in town, but I choose to shop at these locations because of the people.
I recognize them, they recognize me, and it's a good experience just to be in their company.
My decision to shop where I shop is based entirely on the well-known marketing principle that people buy from those they know, like, and trust.
You get to know, like, and trust people because the business owners put themselves out there. They have personal branding. It's easy to see that they are in business because they genuinely want to help others, and are not simply out there to make a buck.
The same personal branding principles hold true on the Web.
Unfortunately, however, many (if not most) affiliate marketers miss this point completely.
Let's assume you want to know whether you should choose satellite or cable TV service, so you search the web for information.
When you find the typical affiliate site, all you'll see is a list of affiliate links to merchant sites… not product endorsements or information that you can use to make a good decision.
If you do find articles on the site, they read more like advertising than information, and rarely is there an author's resource box attached. You also won't find an 'about us' page that establishes the webmaster's credibility, expertise, or interest in the subject matter.
Here's another clue that the webmaster isn't knowledgeable about their topic. There won't be a newsletter signup form. Real affiliates want to bring visitors back to their sites, and they do that by sharing information on an ongoing basis with their visitors… through a newsletter.
So, what do you, I, and other savvy surfers do when we land on a site where the webmaster obviously has no interest in us or the site topic, but is just out to make a quick buck?
We click off the site and go find one where the webmaster has both a personality and knowledge that they are willing to share.
That's why I repeatedly stress in both the Super Affiliate Handbook and the newsletter that everyone should start an affiliate business with a topic in which they are interested.
It's much more fun to work on a site when you're 'into' the topic.
Furthermore, while building a big site may seem like a lot of work in the beginning, it ends up being less work in the long run.
Once your site is built, and you've developed a good base of loyal list subscribers, you may find that all you have to do to earn a good living, is write a weekly or bi-weekly newsletter and put a new article or two a month on your site.
Wouldn't you rather BE a known expert in your field with one big lucrative site, than build a hundred smaller sites in which you have no relationship with your visitors?
And don't worry about using your real name if you're worried about doing so. Use a pseudonym instead. I know a number of well-known internet marketers use 'web names' that aren't their real names. My friend Michael Green (mentioned above) is actually a British member of parliament as well as an Internet marketer, and that's not his real name.
Whether or not you use your real name, you need to BRAND yourself as the person people come to when they're searching for information about tomato gardening, or whatever topic you like.
Branding is easier than you might think.
Just be yourself, and share what you know honestly. When you approach your visitors from that perspective, rather than searching for the almighty buck.. the almighty buck will come and find you.
If you are interested in learning more about personal branding, here are a couple of books on Amazon which might help.
<strong>Did you find this post informative and useful? If so, please share it with others! If you have a comment, question, or suggestion, please leave a comment below!</strong>
Cheers,
<img class="alignleft size-full wp-image-14702″ src="https://rosalindgardner.com/blog/wp-content/uploads/sig-ros.jpg" alt="sig-ros" width="824″ height="94″ />