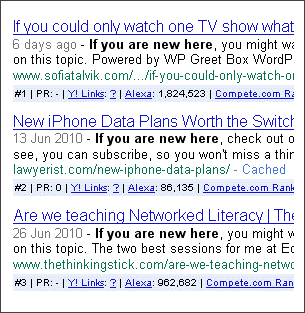 Do you use either the WP Greet Box or WWSGD plugin (What Would Seth Godin Do?) on your WordPress blogs?
Have you placed them to show at the top of your posts and/or pages?
If so, you might be losing some valuable free traffic from the search engines.
Take a look at the screenshot above to the right. The "if you are new here" text shown in bold shows up in the Google search results description when bloggers allow the code from those two plugins to render at the top of their posts.
By result, they lose the space allotted for a proper description — which when written correctly can generate LOTS of extra traffic.
This problem can be solved in one of 2 ways:
Have the plugin set to render at the bottom of the post.
A better alternative is to enter a proper meta description either through your Custom Fields or by using a plugin like the Platinum SEO Pack.
Your choice.
Do one or the other, but please don't waste valuable free search engine traffic — it hurts my head when I see you doing that!
BTW, if you liked this post, you might also be interested in reading "WordPress Plugins and How I Use Them".
Did you find this post informative and useful? If so, please share it with others! If you have a comment, question or suggestion, please leave a comment below!
Cheers,