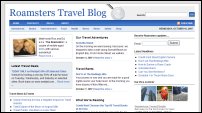 Ed and I spent the better part of the weekend before last making updates and revisions to get Roamsters.com, our travel blog, prepared for the holiday rush.
The biggest change that I made was to install a new WordPress theme, called Revolution News, by Brian Gardner (no relation).
I've used Brian's themes on a couple of blogs now and I love them – primarily because his designs are fresh and fabulous and better yet, they encourage visitors to poke around the site longer. Average visitor duration at Roamsters.com has increased from 302 seconds to 356 seconds since I installed the theme. The number of newsletter and feed subscribers has also increased by result.
Unlike typical themes, Brian's themes come with uniquely-styled homepages, archives, section and post pages. I particularly like the 'newspaper' look and feel of the Revolution News homepage, on which you can display recent posts from categories of your choice, in any order you like, which is infinitely preferable to the endless 10-post homepage scroll on most blogs. The primary and secondary top navigation bars allow you to highlight pages and categories that you particularly want your visitors to see and visit.
A Feedburner subscription button and an email form are already built-in, you just have to supply your own code. Site search is prominently located above the top navigation bar.
Brian's themes are also perfectly functional out of the box — unlike some of the free themes I've found on the WordPress codex which I've installed and later uninstalled. Yes, Brian charges for his themes – $59.95 for Revolution and $99.95 for Revolution News theme. More if you want a multiple-use package. Brian has also recently added a sports theme to the collection.
Brian adds value and service by making himself available by email (he responds to queries very quickly) and providing clearly-written instructions that show you how to easily amend his themes to you liking.
Tutorials include:
How to Create an Archives Page
Using a Full Width Header Image
Creating a Dynamic Home Page
How to Use the Blog Link
Using a Background Image
How to Use the Single Page 2 Layout
Creating Multiple Featured Pages
Adding a Padded Color Border to Images
Customizing the News Page
How to Remove the Double Border
I still have tweaking to do at Roamsters, not least of which is to make a header graphic for the site. Otherwise, we're just dashing madly to get travel gift links up there in time for the Christmas shopping rush. Then again, Ed could that… while I change NPT over to the Revolution News theme.
Sssshhhhh… don't tell him. 🙂