Pictured below is the Fresh News Theme most recently released by Adii of Premium News Themes.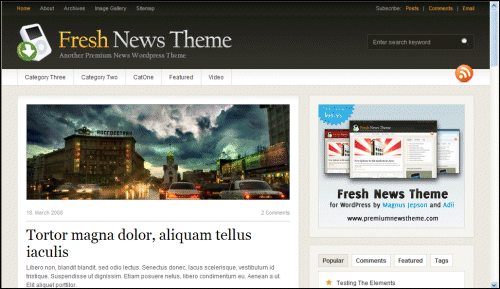 Nice, huh?
The Fresh News was designed and coded by Magnus Jepson. You'll notice some similiarities between this and Adii's other themes as it was built on the framework of previous Premium News themes.
Adii has included 6 color schemes with the theme, including:
Default (shown above)
Brownie
Grey
Ice Blue
Simply Red
Whitey
Cool Blue
BlacknBlue
They've also included a standard blog layout template that will make your homepage look like a traditional blog without losing any of the functions and features built into the themes. All that is required to switch between the 2 looks is selecting the appropriate option.
I use the Premium News theme on RosalindGardner.com (ignore the wonky search button – I was playing around with the CSS and haven't gotten around to fixing it yet) and what I especially appreciate about these themes is that features such as Flickr, Feedburner and banner ad management are integrated.
To see all else that is included with these themes, visit Premium News.
Note: The link above will take you to a purchase page. To see the Fresh News theme in action, click on 'Info about this theme' in the right sidebar and then any of the linked color schemes. (Guess I'm gonna have to talk to that boy about visitor and affiliate friendly site navigation, huh?) 🙂