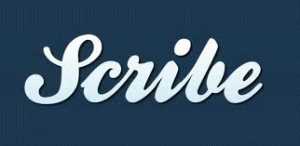 I just downloaded a new ebook by Scribe CEO Brian Clark called "The Business Case for Agile Content Marketing."
The book is available for free from the Scribe Content Library which Brian just opened today.
It is a very well-written 23-page essay about how to generate more traffic and leads for your website and/or your customers' websites. It contains some wonderful insights about how to build an audience. It's an easy and worthwhile read over a cup of coffee.
The Scribe Content Library plans to release more ebooks, webinars and great content in the near future. The next 3 planned for release are:
A Content Marketing Strategy That Works: The 7-Step Process to Building an Audience that Builds Your Business – by Brian Clark, founder and CEO, Copyblogger Media
How to Create Content That Converts: How to Tell a Story Over Time that Transforms an Audience Into Customers and Clients – by Brian Clark
Effective Content Promotion: How to Use Alliances, Co-opetition, and Your Enemies to Get More Likes, Shares, Links, and Traffic – by Sonia Simone, CMO, Copyblogger Media
A simple (free) registration gets you access – so, grab the coffee and get the first book now. 🙂
Comments, questions or suggestions? Please share your thoughts below!
Cheers,