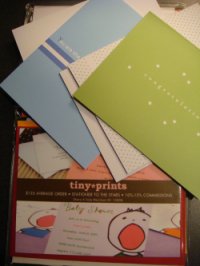 At the last Affiliate Summit, I picked up a Tiny*Prints 'Last Minute Card Kit' (shown here to the left). The card kit was originally designed for the 2007 Golden Globe Style Lounge event where celebrities such as Paris Hilton, Brooke Shields and Jessica Simpson placed orders for the unique cards. The pack of 10 foldover cards, each with a coordinating colored envelope was also placed in the Entertainment Weekly Oscar gift bags.
The cards were of such high quality that I checked out the Tiny*Prints site and affiliate program. I went straight to the Customer Testimonials page where I found 100's of testimonials from satisfied customers, most of whom note not only the great product quality, but the exceptional customer service that they received from Tiny*Prints.
It was easy to understand why their customers are so pleased when I noticed that Tiny*Prints offers a a convenient pre-ship envelope service to all customers purchasing birth announcements. They send the announcement envelopes before the actual delivery date, which allows customers to address the envelopes in advance and get them out quicker after the baby is born. Nice touch!
Tiny*Print also offers photo greeting cards, which are great for custom birth announcements and family holiday greetings.
Their affiliate program is administered by the ShareaSale affiliate network. Here are some of the details:
Base commission rates of 10%
up to 15% commissions with volume sales
Monthly affiliate promotions – e.g., $250 for the first five affiliates who reach monthly volume target
$175 average holiday order size and $35 EPC!
180-day cookie
5% holiday coupons for customers
Product data feed
Tiny Prints reports that they are expecting a tremendous holiday season in 2007 with expected order volume of over 5 million cards, and reminds affiliates that the peak season for their holiday orders begins in mid-October and runs into mid-December.
Card categories and products include:
Baby Shower Invitations
Baptism & Christening
Birthday Party Invitations
Bar & Bat Mitzvahs
Holiday Parties
Corporate Holiday Parties
Holiday Party Favors
Baby Shower Favors & Gifts
Dogs and Pets
I'd highly recommend signing up to promote the Tiny*Prints program through ShareaSale over the holidays (or at any time) on almost any niche site.
[tags]Tiny*Prints,Tiny Prints,greeting cards,affiliate,program,EPC,holiday[/tags]