As it is highly unlikely that U.S. Congress members will see past their differences during the current term to pass the Jobs Bill and put people to work, I did some research to find out what types of jobs are available.
Fortunately for those of you interested in making money online, the news is good!
I did a job search at SimplyHired each of the terms I selected showed an increase between 77 and 722 percent since November of 2009.
Here's the graph…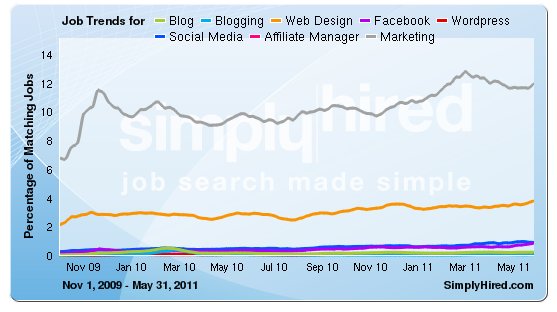 And here are the terms I searched…
Blog jobs increased 722%
blogging jobs increased 106%
web Design jobs increased 76%
facebook jobs increased 375%
wordpress jobs increased 734%
social Media jobs increased 257%
affiliate Manager jobs increased 132%
marketing jobs increased 77%
Hmmmm…. the 2 terms with the largest increase? Blog and WordPress.
That alone should tell you that there are jobs out there for those with writing (blogging) and WordPress design skills.
You got 'em – USE 'em to earn some coin.
For some ideas on how to use your skills, please see my Make Money Helping Local Businesses Start a Blog article.
---
If you don't know how to blog, learning has never been easier or less expensive than that available through my Academy (aka Affiliate Blogger PRO).
We supply tutorials, videos and a community forum to help you learn everything you need to know about blogging and affiliate marketing.