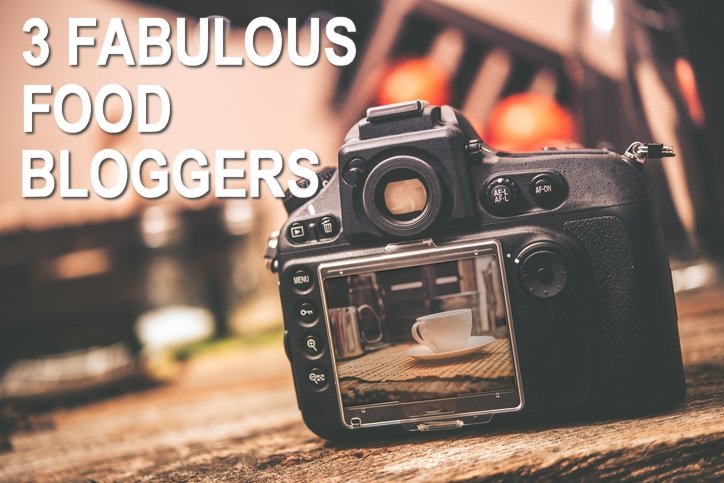 Friends and family whom I don't see on a regular basis might faint from shock when they learn I've recently acquired an avid interest in cooking – precipitated primarily by nearly 35 pounds of weight gain over 9 years due to eating Ed's delicious, yet oh so fattening foods. (I'm down 10, 25 to go.)
As I can't keep too many cookbooks in the RV due to weight considerations – I've added enough tonnage already – I usually try recipes I've found on a food blogger's site.
Being a blogger myself, I also enjoy checking out the workings behind a good blogger's blog, such as their:
Monetization techniques. None, affiliate programs, own products?
Social media strategy. Is their social media strategy successful?
Google rankings. What makes their site come up in the Google listings ahead of others with similar recipes?
To that end, I thought it would be interesting for my readers (YOU!) to take a look at what makes certain blogs in the food blogging niche particularly successful.
My choices for this short list of food bloggers (no worries, there will be more) are based on some very simple criteria:
The blogger is obviously passionate about cooking.
The blogger must publish recipes on a regular basis.
Their food blog is very popular, i.e. they've captured media attention.
The food blog is a one or two person operation, i.e. not a magazine-style / corporate blog.
The food blog is, in part at least, monetized using affiliate marketing techniques.
So, here in no particular order of preference is my first list of 3 fabulous food bloggers.
The Pioneer Woman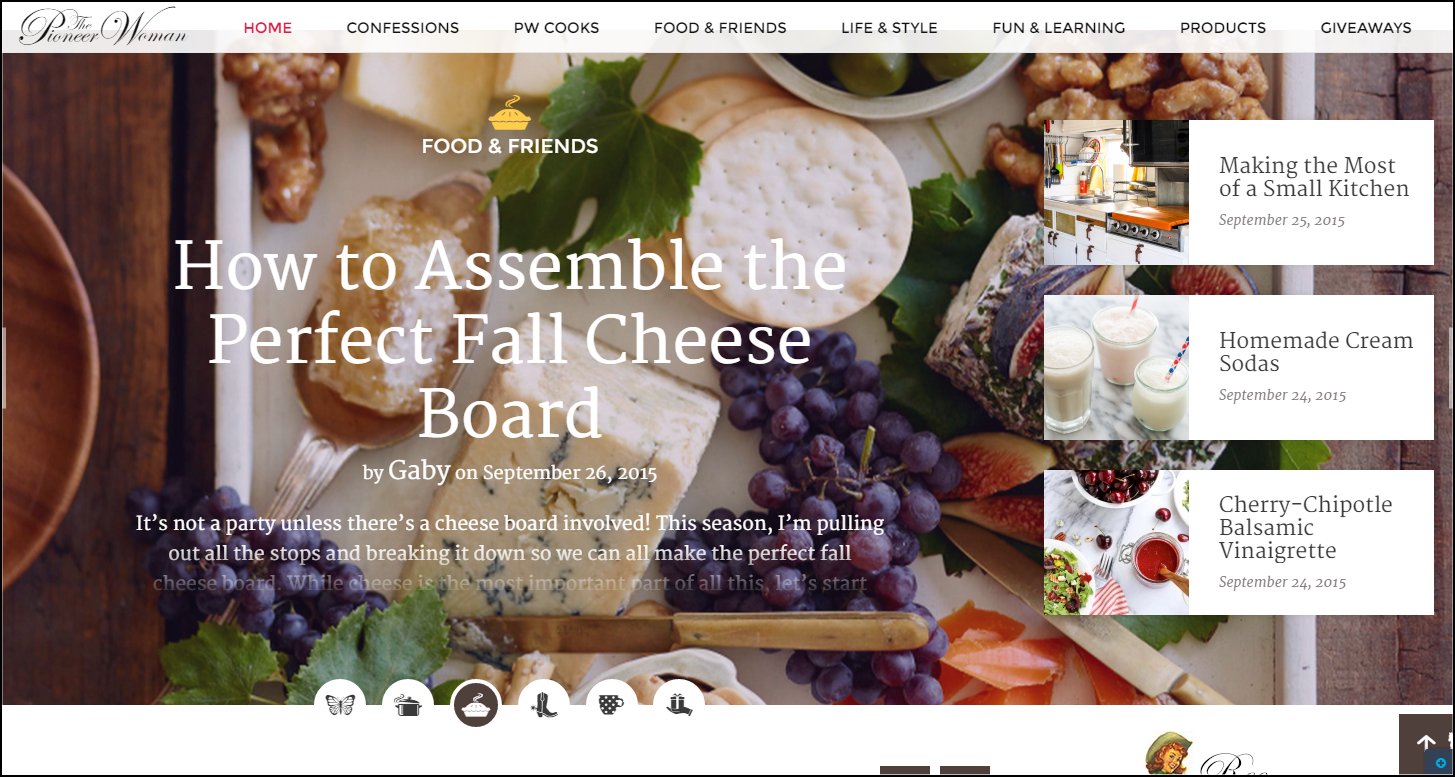 Have you ever imagined yourself being one of the chefs on the Food Network? Well, that's where Ree Drummond's blog took her!
Ree Drummond is a writer, photographer, ranch wife and mother of four. Her blog gets 20 million PLUS pageviews per month and won the Bloggie Awards 'Weblog of the Year' in 2009, 2010 and 2011.
Ree's blog landed her a TV show on the Food Network with her most popular recipes listed on the site as follows:
Perfect Pot Roast
Cowboy Chopped Salad
Simple, Perfect Chili
Simple Perfect Enchiladas
Baked Ziti
Banking on her success, Ree has also written The Pioneer Woman Cooks: Recipes from an Accidental Country Girl, her memoir Black Heels to Tractor Wheels — A Love Story (yes, she moved from LA to a cattle ranch in Oklahoma), Charlie the Ranch Dog, a children's book and a number of other books.
2,971,814 likes on her Facebook profile Ranked 2nd on American Food Bloggers for September 2015. American Food Bloggers ranks their top choices by popularity and influence and is updated daily.
Visit the The Pioneer Woman.
I am a Food Blog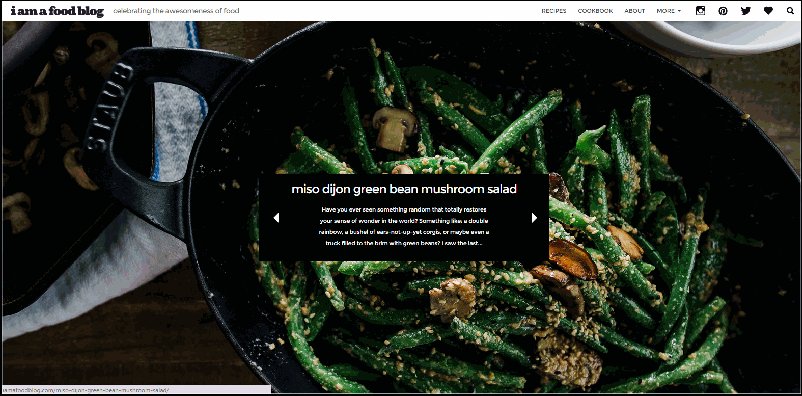 Vancouver-based (Canada) poutine-addict Stephanie Le, runs I am a Food Blog. She originally started blogging in 2010 on Momofukufor2, having a "Julie and Julia" type adventure where she cooked and ate her way through the entire Momofuku cookbook
.
Just into her 3rd year of blogging on I am a Food Blog, Stephanie won Saveur Magazine's Editors' Choice for Best Cooking Blog and Blog of the Year.
I love Stephanie's blog. Her recipes run the gamut from Spiced Apple Cider and Breakfast Grilled Cheese to Quinoa Brunch Bowl with Six Minute Soft Boiled Eggs, Creamy Avocado, Tofu Puffs and a Miso Mustard Dressing. Her food photography is absolutely mouth-watering.
Moreover, she's personable and sociable, injecting each of her posted recipes with personal anecdotes. By result, she receives tons of comments on her blog, i.e. 376 on one post when she mentioned it was her birthday. 🙂
Although Stephanie has Facebook and Twitter accounts with fairly respectable followings, she really shines on Instagram where she's made 1,110 posts and has more than 83,000 followers. She uses Pinterest equally well, with 2,700 pins and 15,200 followers.
What amazes me is that she's created such a massive following without using an autoresponder service such as Aweber. Based on my experience, her following (and earnings) would be so much greater if she'd take the time to build an email list and contact her subscribers on a regular basis. In fact, I saw several comments on her blog from readers asking her to do just that.
Stephanie monetizes mainly through sales of her book, Easy Gourmet, available on Amazon, and Google Adsense.
Visit I am a Food Blog.
Pinch of Yum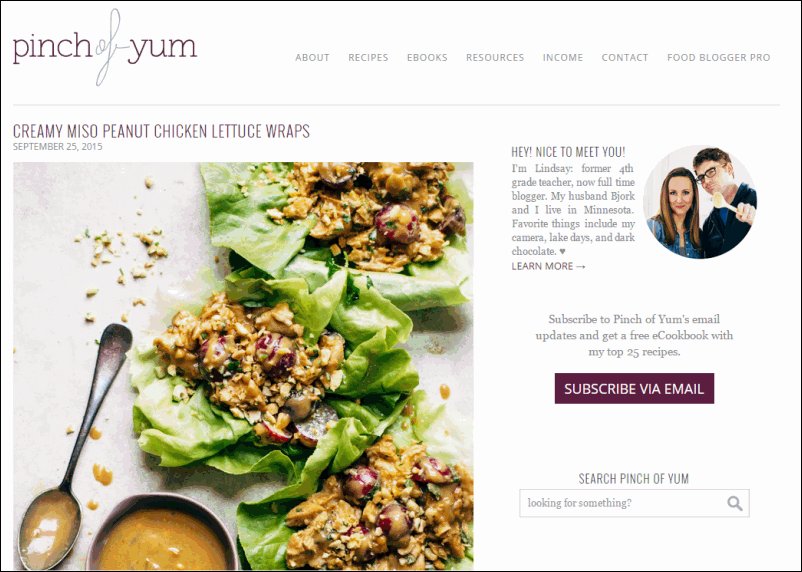 Lindsay Ostrom started Pinch of Yum in 2009. Five years later she was able to quit her job as a 4th grade teacher to do food blogging full-time.
Lindsay posts new recipes regularly, most often every 3 – 4 days and then sometimes 2 days in a row. Recipes she's posted just in the last month include AUTUMN GLOW SALAD WITH LEMON DRESSING, ADDICTING CARAMEL APPLE CRISP BARS and 5 MINUTE BLENDER ENCHILADA SAUCE. She also blogs about her dog — and how can you not love a blogger who talks about her dog? 🙂
I feel a certain simpatico with Lindsay and her husband Bjork, as they took what she had learned about food blogging and started Food Blogger PRO in 2011 to teach others how to become successful food bloggers.
Note: I wrote and published the Super Affiliate Handbook: How I Earned $436,797 in One Year Selling Other People's Stuff Online after being an affiliate for 6 years and opened Affiliate Blogger PRO (sounds a LOT like Food Blogger PRO doesn't it? Hmmm.. 🙂 ) in 2010.
Lindsay and her husband Bjork started posting their earnings from Pinch of Yum on September 11, 2011, reporting $21.97 that month. By 2013, they were earning $8500 plus per month and in June 2015 she reported having earned $32,971.75 from the blog. Granted, not all of that income is generated from recipe seekers. In addition to selling their own book (Tasty Food Photography), promoting cooking products such as the Paderno Spiral Vegetable Slicer

and showing Google Adsense ads, they also promote Bluehost, Aweber, Elegant Themes and other resources for food bloggers.
In August 2015, Pinch of Yum was profiled by CNBC's Inside Wealth in an article titled "Food blogging: How to cook your way to success".
Their social media campaigns have respectable followings: Facebook 45,947, Twitter 9,288, and Instagram 94.1k followers.
Visit Pinch of Yum.
Did you enjoy this overview of how 3 fabulous food bloggers have achieved enormous success doing what they love? If so, please share it with others! If you have a comment or question about these WordPress tips, please leave a comment below!
Cheers,