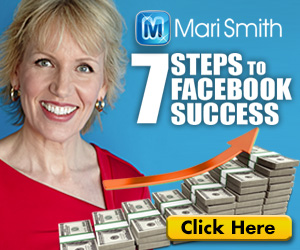 Because I use Facebook marketing successfully but don't teach the subject myself, I just had to let to let you know about the free webinar that Mari Smith – the world's foremost authority on marketing with Facebook – is holding on June 4th, 2013.
Mari has created a 7-step Facebook Marketing Success Plan, packed with proven, money-making tips for you to turn the world's most popular social network into the TOP source of quality leads and paying customers for your business! After this 90-minute webinar, you'll walk away with actionable steps that you can put in place right away.
Get ready to EXPLODE your Facebook business in the rest of 2013 and beyond!
Cheers,

P.S. Go mark your calendar for June 4th @ 1 pm ET and Go save your seat now — it's that easy. And, by the way, if you are unable to join Mari live, she will be recording this live event and will send out the replay link to all registrants shortly after. (Of course, I highly recommend that you tune in live as Mari tells me she is doing a live prize drawing, bonuses and live Q&A!)