Using an affiliate marketing calendar to plan your yearly promotions in advance is a great way to ensure that you take advantage of all the important events to maximize your profit potential.
We all know that Valentine's Day is on February 14th, Halloween is on October 31st, Christmas is on December 25th, and New Year's is on January 1st, but did you know that National Beer Day is on April 7th or that World Book Day is on April 23rd?
Any or all of those holidays might be important to add to your affiliate marketing holiday calendar for planning purposes.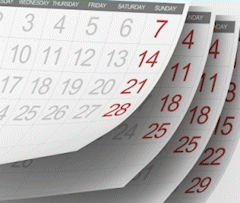 Listed below are links to the affiliate marketing calendar that highlight holidays and events for each month of the year. Content in these posts will change from time to time, so be sure to check them regularly for new and additional promotional ideas.
Did you find this post informative and useful? If so, please share it with others! If you have a comment, question, or suggestion, please leave a comment below!
Cheers,