On Sunday, January 17th, Jeremy Palmer and I presented Video: Biggest Affiliate Marketing Opportunity Since Google at Affiliate Summit West 2010.
The presentation covered a number of video marketing information and essentials such as:
Online Video Statistics
YouTube Statistics
Why Use Video Marketing?
Equipment Requirements
Optional Equipment
Making Your Video
Creating a YouTube Channel
Uploading to YouTube
Being Social on YouTube
Ranking Factors on YouTube
How to Improve Your Rankings
Marketing Your Video
As much as I'd like to share the full presentation with you, I can't as per my Affiliate Summit speaker agreement. What I CAN do however is share a summary of what I think are the most important points, a few statistics and why you need to include video marketing as part of your online marketing strategy asap.
A Few Online Video Statistics
3.8 billion searches are conducted through YouTube each month according to Comscore.
U.S. residents watch more than 30 billion videos each month.
81% of the total US Internet audience watched online video.
The average viewer watches 8 hours of video per month
Why Video Marketing?
The numbers above should convince you that there is a huge market out there looking to online videos for information.
Here's an example.
When I checked Google Analytics the morning of our presentation, I saw that of the 892 referring sites that sent traffic to this site, YouTube was in the 7th spot — and only after my direct traffic from my own sites.
In other words, YouTube was my primary source of direct traffic.
Those visitors stayed an average of 7 minutes 43 seconds on the site, visiting 8.54 pages.
The only better retention rates were through visits from RosalindGardner.com, presumably because those folks already know of my work. Too, the percentage of new visitors from YouTube was about 20% higher than from my own sites.
Compare that to StumbleUpon visitors, of whom 97.8% were new to the site, and looked at an average of 2.28 pages in a mere 18 seconds. That's some pretty fast clicking! I just hope they left via paying links. 🙂
What all that means in a nutshell, is that by using video, you engage and build trust with an audience which inspires them to visit your site, i.e. increased traffic. Building that trust also results in longer site visits for which Google rewards you with higher rankings. Longer stays means more exposure to product and thus higher conversions.
Simple Video Marketing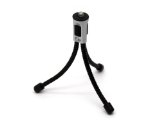 I've found video marketing to be very simple. All I use is a Flip video camcorder, a tiny tripod and Camtasia Studio to edit and produce my videos before uploading them to YouTube and other video upload sites.
Don't make this mistake!
BTW, the biggest mistake that I see people making when they upload their videos to YouTube is that they don't link back to their blogs from the description.
You gotta do that IF you want the traffic and increases conversions!