I saw some interesting and quite unexpected results after posting my Home Office Tour and second-ever video to YouTube the other day.
When I stopped by YouTube this afternoon, I saw "#18 – Most Linked (This Week) – Howto & DIY" and "#80 – Most Viewed (This Week) – Howto & DIY" under "Honors for This Video".
When I clicked on the first link, there was mine beside 2 from Lockergnome's Chris Pirillo, the ultimate techno-video-geek who has 694 videos up and 14,232 YouTube subscribers. Whoa! I am truly honored! 🙂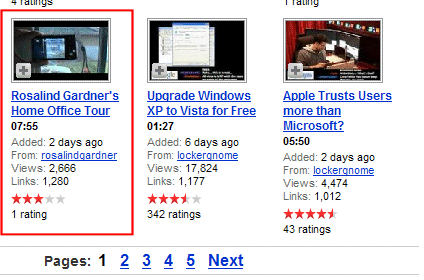 So… in real terms, did posting the video to YouTube result in traffic?
You betcha!
According to my AWSTATS, there was a big spike in searches for "Rosalind Gardner" which is exactly what I was aiming for when I named the video 'Rosalind Gardner's Home Office Tour'.
Traffic is good, but traffic with brand awareness is even better.
So, there ya go, another lesson learned – the power of video.