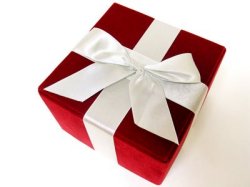 Well, it's now mid-July which of course got me to thinking about Christmas… because summer heat is always such a gift.
Ho, ho, ho.
Actually, I was musing about a 'Christmas in July' party that I and my friends had a very long time ago. We roasted a turkey, decorated the rental and strayed from tradition a bit by dining on the boathouse roof.
After entertaining myself with those delightful memories for awhile, I wondered if other people were contemplating Christmas in July.
Finding out was easy enough. I went to Google Insights for Search and searched for the term "Christmas" with results filtered over the last 30 days.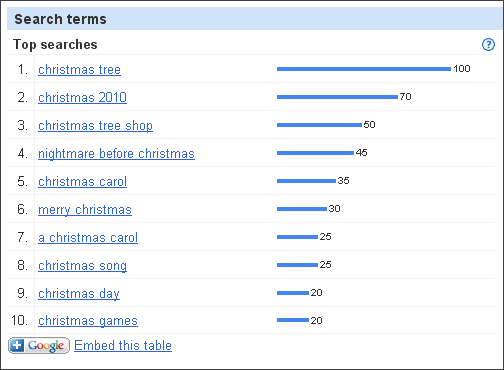 And it looks like I'm not the only one thinking of Christmas in July.
However, I certainly hope that those who were searching for "Christmas tree" in July were thinking about the artificial variety.
To the right of the most prevalent searches related to "Christmas", Insights reports rising searches.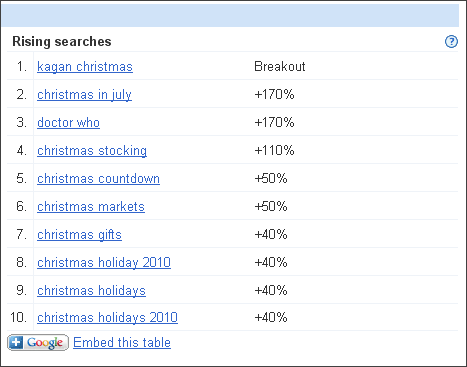 What is most notable perhaps are the returns for "Christmas holidays". This is a term that travel bloggers might want to concentrate some effort on over the next couple of months as people plan their visits to (or away from) the relatives.
The rise of 'Gifts' and 'stocking' are good signs.
Recalling the elbow-to-rib hits I've taken in malls on Boxing Day, I know I'm not the only one who starts shopping early for Christmas. And let's not forget the 'nuts about Christmas' types, who keep the brick-and-mortar "Christmas Store" viable all year long.
After seeing those results, I was getting really curious, and had to see if anyone was capitilizing on the term "christmas holidays 2010" during the merry month of July.
The search returned 20 results and no advertisers.
Broadening the search to "Christmas 2010" returned tons of results (mostly related to toys to be marketed this year) and only 1 advertiser.
So, it you want to get in there – now is a great time.
Remember — Christmas is 'evergreen', and I'm not talking about the trees.
The holiday happens every 365 days (which all those frantic last-minute shoppers seem to forget until December 24th), so there's always a market, and that market is huge, even in July.
If you're nuts about Christmas (or any other holiday), you may want to consider taking advantage of the opportunity to get ahead of the pack now.
There are so many different ways you could approach the niche. Create a content-rich site about Christmas traditions, crafts, or fill it with holiday recipes. How about sharing tips for Christmas decorating schemes or tips for surviving the holidays?
Monetizing the site will be easy. Find merchants at affiliate networks that offer exceptionally unique gifts, toys, ornaments and/or books to sell on your site.
Advertise using PPC, and keep your Google Adwords bids low until December, when your sales will soar.
Last, but certainly not least, build and work your list. Share some Christmas in July spirit with your subscribers and you'll take your place at the top of the tree as a *star* affiliate by the time December rolls around.
Ho, Ho, HO. Merry (July) Christmas!