I asked readers if they could spot the problem with a Clickbank product for which I'd received an affiliate whitelist invitation in my "Clickbank Whitelist Invitation: Can You Spot the Problem?" post.
Everyone was asked to leave a comment on the article if they saw an issue with the product mentioned.
Boy, you folks are smart!
You picked up on more issues than the one that caused me to reject promoting this Clickbank product, the (OFP Kit) because you were looking at the sales page from not only an affiliate marketer's perspective but that of a customer as well.
Good for you!
I agree with everyone who posted comments about the pitch being less than honest, i.e. in terms of results being 'guaranteed' from 'Day 1' and a misspelling to boot! 🙂
What very few people noted, however, was the affiliate marketer's primary reason NOT to promote this Clickbank product.
OFP Kit could have been the best product ever to help new Internet entrepreneurs learn to make money online, but I still wouldn't have promoted it for the simple reason that the offer 'leaked' affiliate commissions, i.e. an effort is made to scam affiliate marketers from their rightful commissions.
Here's how that worked.
I coded my affiliate link for the OFP Kit and at the bottom of the sales page saw an ad for the 'Lucrative Business Blueprint' product.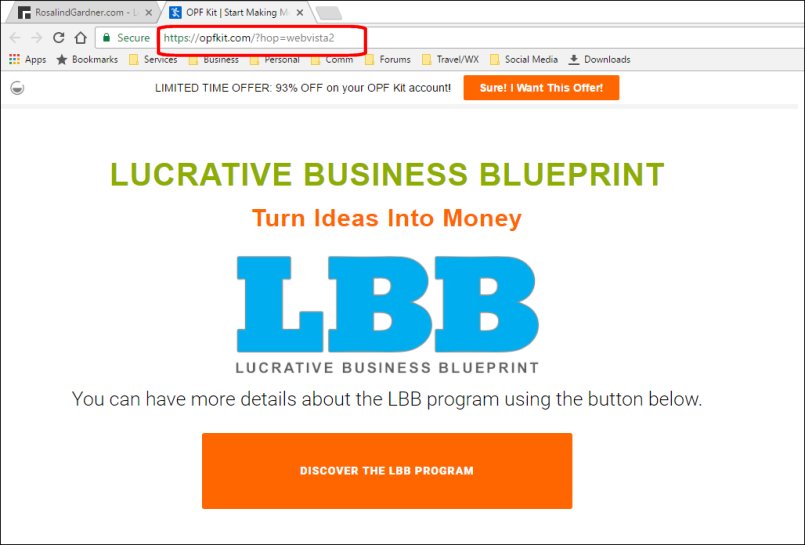 Clicking the Lucrative Business Blueprint link and then the 'Get Started' button at the bottom of that sales page I ended up on a Clickbank order form. I checked to see whether my affiliate ID (webvista2) had carried over to give me credit for sales of that product.
It did NOT.
Circled in red on the graphic below is the affiliate to whom sales would be credited, should YOUR leads choose to buy the 'Lucrative Business Blueprint', rather than the OPF Kit to which you directed them initially.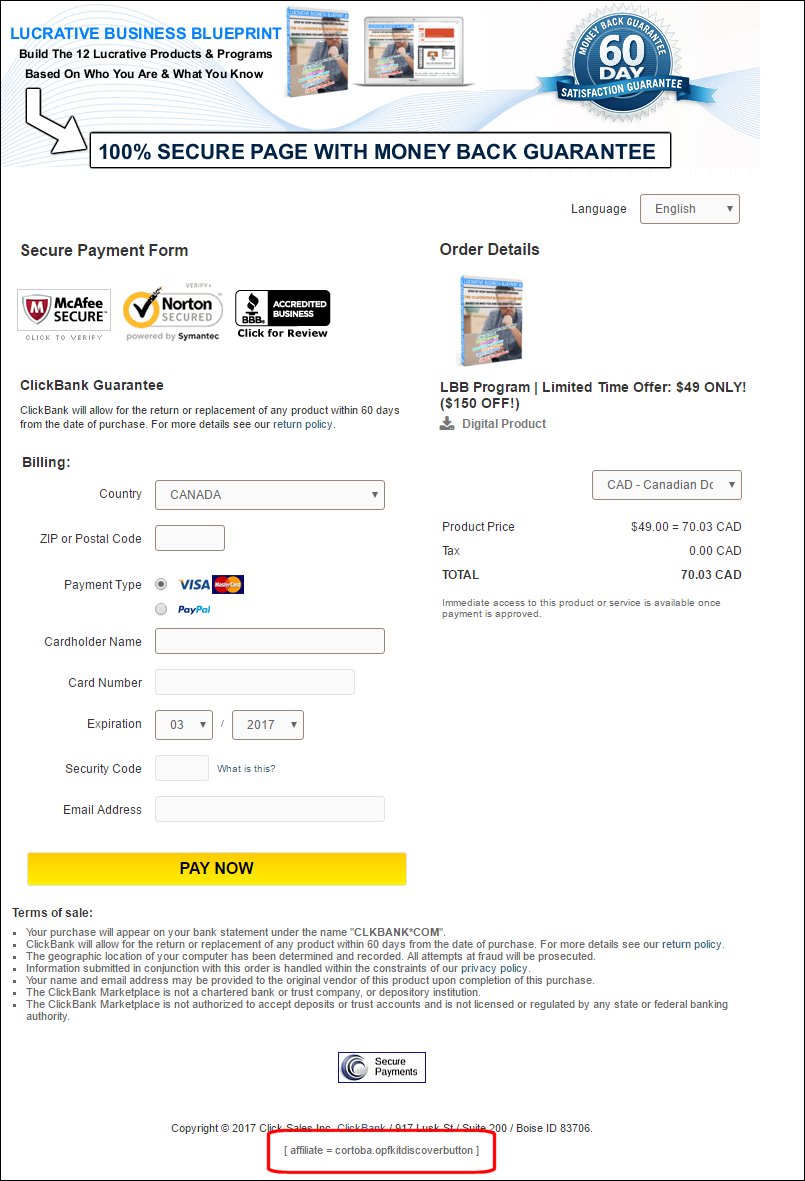 Hmmm…. not fair, right?
That's not only not fair but SO not kosher in the affiliate marketing world.
The CORRECT way to link to another offer from a Clickbank sales page is to code the link WITHOUT an affiliate link.
For example, if I were to link from my Super Affiliate Handbook page to my membership site's sales page, I would link with its URL.
I would NOT use a Clickbank affiliate link.
It makes me think that the OPF Kit producers added that offer after they got product approval from Clickbank because Clickbank would never allow such leakage.
So… is the problem solved?
No.
So, what do you think we, as affiliate marketers, should do to correct the situation?
Please leave your thoughts in the Comment section below and I'll let you know what I did and whether the problem was resolved.
Cheers,