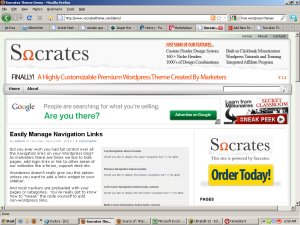 Yesterday, I came across Socrates, a new WordPress Theme that has some very newbie-friendly features that decrease the need for hard-coding.
With Socrates, you'll find:
Easy to Manage Navigation Links
That you can instantly Monetize Your Site With the Ad Bar
Built-in Clickbank monetization
50+ Backgrounds or Upload Your Own
That You can Create Custom Headers On The Fly!
How To Create Multiple Layouts
Three Footer Widgets For Extra Customization
The developer, Dan Nickerson has a special licence deal going on until noon Eastern today – April 15th.
Check out the Socrates demo today.