James Reinhold is a thief. He's a copyright infringer. Don't make the same mistake as he did…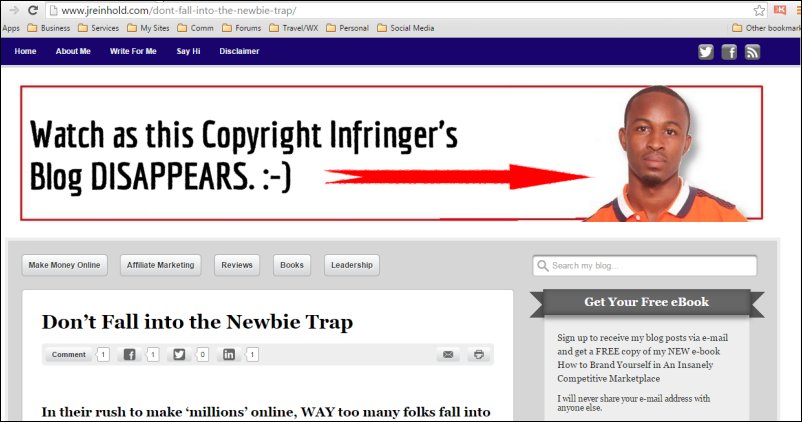 Since registering his domain in mid-February, James Reinhold has put a lot of effort into building and marketing his new blog.
He has already signed up 1390 subscribers to his newsletter by offering a copy of his new e-book.
In the last week alone, James has created a new header graphic, replaced the theme's standard favicon and added links to his social media sites. He also installed the MaxBlogPress Subscriber magnet plugin and placed new banner advertising in his sidebar and below the author's box on his posts. What is MOST impressive however, is that he posted 19 full length articles and book reviews over just two days!
James Reinhold (most likely NOT his real name) is a copyright infringer, i.e. a low-life thieving cheat and all 'round scumbag.
How to Find a Copyright Infringer
I first discovered "Award winning Blogger, Internet Marketing and Affiliate Marketing Coach and Author" James Reinhold when I saw several pings from his blog  show up in the comment moderation section of this blog.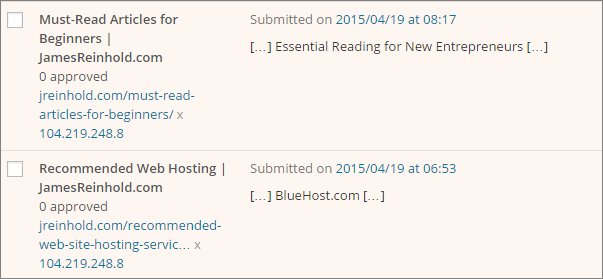 Hmm… "Must-Read Articles for Beginners" is the exact title of one on my posts, so I paid his site a visit and sure enough, not only was he copying my articles, he had stolen the graphic that I bought at iStock as well and Getty Images doesn't take kindly to thieves.
Here's a screenshot of what I found on his site…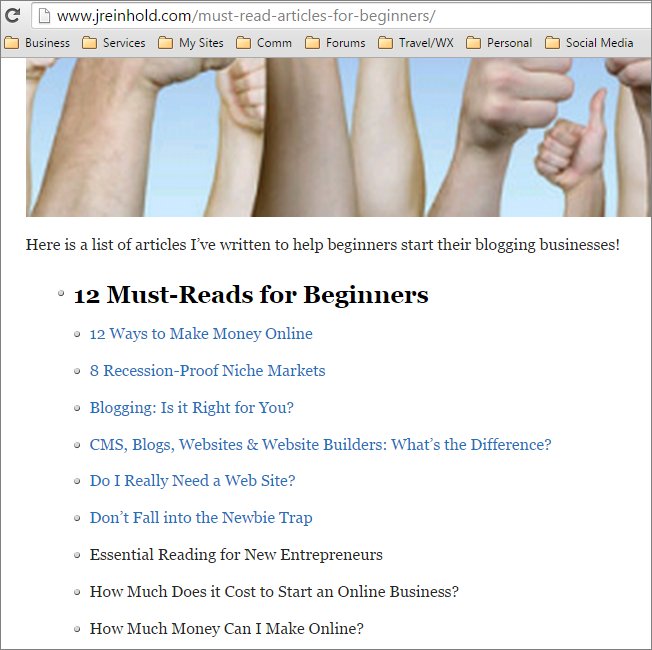 When I first saw this post a few days ago, each of the articles was linked back to my site. Now the linked articles have been copied and posted to his blog and I suppose he has plans to copy and paste the rest of those from the links were removed.
Smart kid! Like I always say —  don't place unpaid links on your site! 🙂
So, after finding my articles, I did a little more snooping around his blog and discovered that his new e-book "How to Brand Yourself in An Insanely Competitive Marketplace" being offered to newsletter subscribers was in fact written by Andrew Spence.
Learning that he'd also stolen that content was easy. I just entered the book's title into Google and found Andrew on Twitter, which then lead me to Andrew's site right away.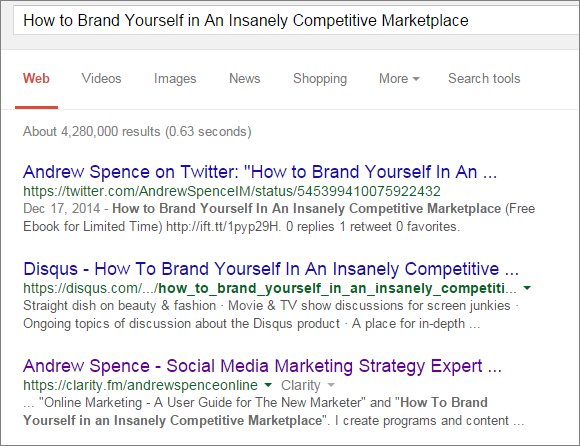 When I visited Andrew's site, it was obvious from where James had pulled his WordPress theme. Andrew uses the premium Get Noticed theme for WordPress by Michael Hyatt, which costs between $197 and $397 US to purchase.
I'm guessing that someone who steals content, probably didn't spend the big bucks to buy a premium theme.
Then, for good measure, James also stole Andrew's newsletter sign-up copy.
This is Andrew's email subscriber form…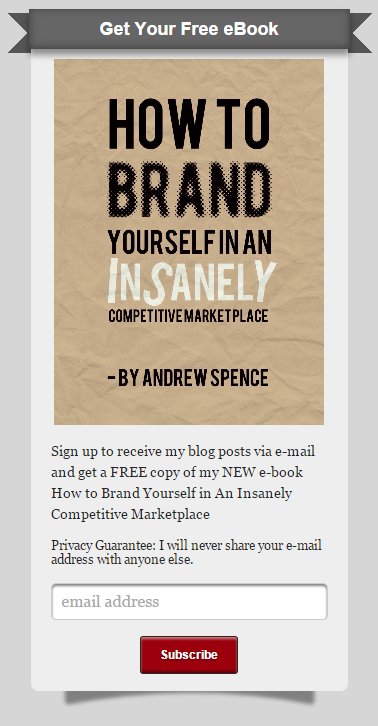 And this is the copyright thief's email signup form …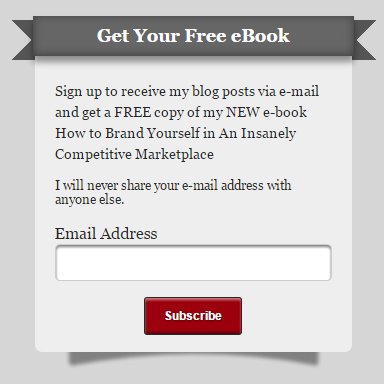 Gee, I'm surprised that James didn't bother to change Andrew's name to his own on the book graphic — if he had, he might have more than 1390 subscribers by now. (No, I don't really believe he has that many subscribers.)
Just for fun, I visited the thief's social media sites and found links to other sites, some of which were dead, including ELITEIMHUB.COM and ELITEINCOME.NET.
Perhaps it's just my imagination running wild, but with domain names like that, maybe the content on those sites was similar to what he is posting now? And maybe, just maybe, those sites were taken down for copyright infringement issues and the thief didn't learn his lesson?
Well, let's hope he learns the lesson better this time.
Taking the Copyright Thief Down
My first step was to file a ticket with his web hosting service provider, Webcedi, which I found by doing a Whois search on his URL. Note, you want to look at the the Nameservers to determine the hosting provider, not the Registrar.
Domain Name: JREINHOLD.COM
Registrar: ENOM, INC.
Sponsoring Registrar IANA ID: 48
Whois Server: whois.enom.com
Referral URL: http://www.enom.com
Name Server: NS1.WEBCEDI.COM
Name Server: NS2.WEBCEDI.COM
Status: clientTransferProhibited http://www.icann.org/epp#clientTransferProhibited
Updated Date: 12-feb-2015
Creation Date: 12-feb-2015
Expiration Date: 12-feb-2016
In the ticket I included a list of links that match my articles with the content that he stole and placed on his site.
Next, I filed a "DMCA COMPLAINT – TAKEDOWN NOTICE" with Clickbank to let them know that they have an affiliate who is promoting their vendors' products (including my own Affiliate Blogger PRO) by using stolen content to market those products.
To find his Clickbank ID, I clicked the affiliate link on his site to Affiliate Blogger PRO, hit the 'Order' button and at the very bottom of the payment page, the affiliate is revealed.

I sent a notice through Amazon Associates support (basically a DMCA complaint notice).
I would have filed a DMCA notice with HostGator but unlike almost all the other companies, they require that notices be filed by postal mail or fax. (I'll get back to that).
I will also notify each of the folks from whom he has stolen content, i.e. Andrew Spence, Michael Hyatt and others with the hope that they too will file DMCA notices.
The Real Downside to Stealing
In reviewing Mr. Reinhold's social media sites, I've discovered that he has links to various associations and people that may be interested in his nefarious ways.
I just might have to send those associations and people some proof of his nefarious ways if he who calls himself (poses as) James Reinhold and pretends to live in Renton, Washington, USA  (aka MrJRSnr on Twitter and De Governor on Facebook) doesn't own up to his misdeeds.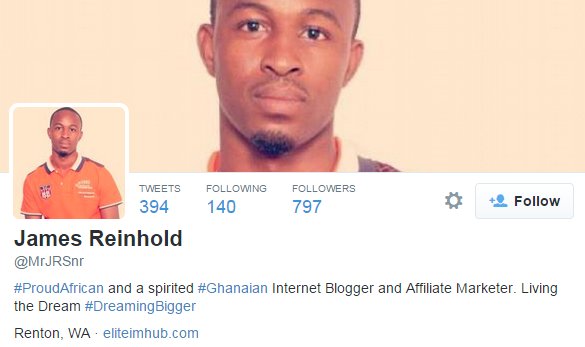 Those associations might include a rural school in Accra, Ghana (where he really lives), the Study Access Consult (of which he is supposedly Director) as well as his Facebook friends and Twitter followers.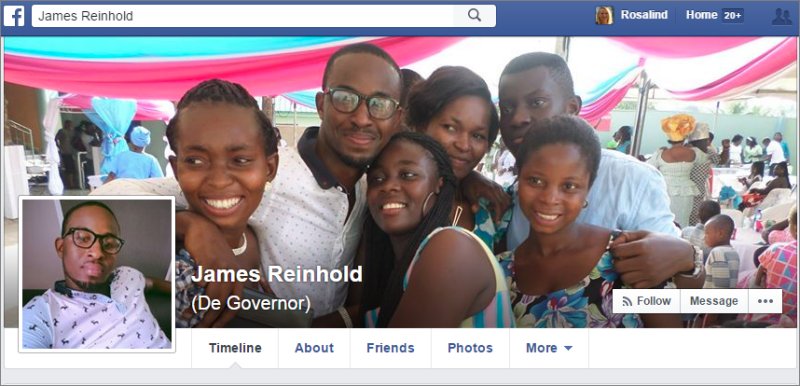 James wasted a LOT of my time as I've followed his tracks… and will continue to do so until his site is taken down for good.
What's really sad is that he (or the person he has working for him) has obvious skills with WordPress design and social media marketing. Instead of putting those skills to good use to earn a living, he's chosen to be a criminal — which almost always ends badly.
UPDATES
I'll post changes here as they are made.
April 23rd, 2015 – Based on my contact with the ISP, almost all my articles were removed from the site today.

He also removed the title of Andrew Spence's book from his email signup form, but still claims to have a book to offer. I signed up for his list and got confirmation, but never received link to a download… which is a good thing!
Summary
If you find your content being used without your permission you should notify the infringer as well as the hosting Internet search provider (ISP), who may remove offending content from a site or sites. Most big companies, have easy complaint mechanisms for copyright infringement"take-downs."
You can also set up Google Alerts with keyword phrases specific to your content that will notify you anytime that exact phrase matching your work is placed online.
Comments, questions or suggestions? Please leave a comment below!
Cheers,